Myzone puts you in control
Myzone 3 is a climate control system that gives you the ability to have precise control of the temperature in each room individually.
With the addition of up to 12 touch screen consoles or sensors - every room will be at the temperature you want, all the time. You can also direct airflow to only the rooms you choose for maximum efficiency and savings. Your Myzone 3 will work with leading ducted air conditioning brands. When using ducted air conditioning in your home a great way you can optimise energy efficiencies and savings is by using a zoned system.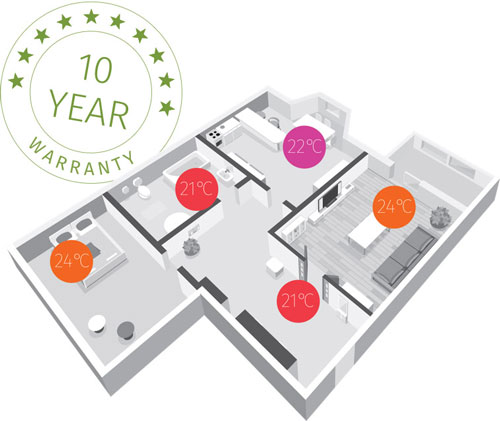 Myzone 3 functionality makes life easier for you
When your ducted air-conditioner is controlled by the Myzone 3 it gives you the ability to zone your house and direct the airflow to only the rooms you require.
During the day to save money you might only cool down the living areas and not the bedrooms then at night you might change to only cooling bedrooms. The Myzone 3 doesn't only just control zoning dampers it detects the rooms that need more airflow to cool. If there is a space in the house that is harder to cool down it will send greater volumes of airflow to the area and reduce airflow requirements in rooms that don't need bigger amounts of volume.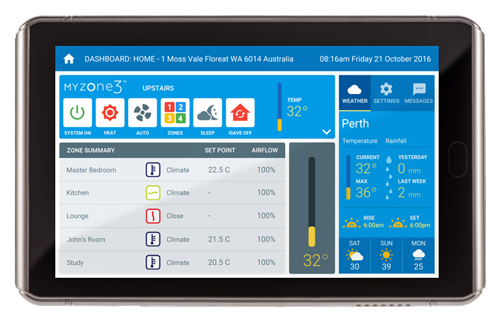 Complete control
Offering complete control over your ducted air conditioning system the Myzone 3 is compatible with leading brands in the air conditioning industry.
Myzone offers an easy to use App which enables you to control your air conditioning system via your smart phone or tablet. This App gives you even greater control with 4G access from anywhere providing savings and a more efficient solution. Now the whole family can come home to the perfect temperature.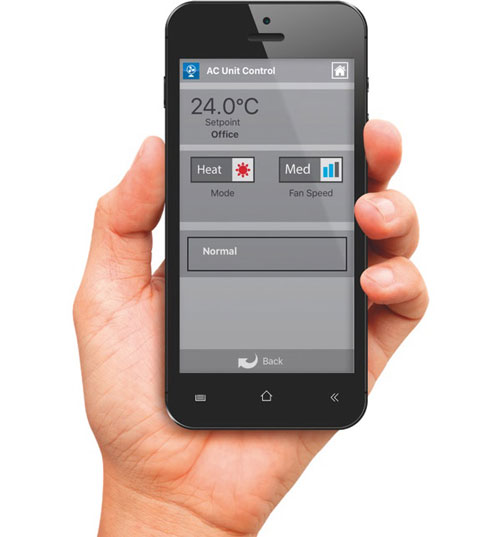 Frequently Asked Questions
What is the website to sign up for worldwide access of MyZone 3?
The web address to sign up for world wide access of MyZone 3 is: http://metalflex.ascsoftware.com.au
How can I download the myzone3 app?
Download the latest MyZone 3 Home app for your apple or android smartphone or device here
Apple: https://apps.apple.com/au/app/myzone3-home/id1544718615
Android: https://play.google.com/store/apps/details?id=au.com.izone.myzone3&hl=en_AU&gl=US


I have an old ducted unit; will it work with the MyZone 3 system?
Units that are manufactured pre 2012 are more likely not work with the MyZone 3 systems as the operating system may not be compatible to the new technology.
Does the Myzone 3 replace the air conditioners thermostat?
Yes, the MyZone 3 replaces the factory controller. Myzone 3 have the ability not just to zone spaces increasing the units efficiencies but also control temperature. The beauty of this is you only have 1 controller on your wall which does it all.
How do I install or commission a Myzone 3 unit?
Only qualified Myzone installers should install and commission Myzone systems. They have the relevant skills and knowledge required to safely install. Installing or attempting to fix your Myzone 3 can void the warranty on the unit. It is therefore important to always use a licenced installer to install a new Myzone 3.
Why is the start-up loading screen looping?
This can happen when the WI-FI bridge is paired and the screen has restarted while mid update. Just unplug WI-FI bridge from power point and hit restart button on touchpad. Once screen has loaded plug WI-FI bridge back in and wait for it to complete update on MyZone 3 touchpad before you use it.
Where can I find my system id?
The system ID is unique for each MyZone 3 and you can find it in the following places:
On the white cardboard box, the CPU comes in
On the MyZone 3 CPU
On the loading screen of touchpad